"From birth we began taking biweekly pictures of Natalie lying on her quilt. As she grows, each square with loving verse is like a tic mark on a ruler tracking her development. In a blink of an eye she will be larger than the quilt, but each photo will memorialize this special time in our lives."

- Jennie Miller

Photo by Sharon Gaietto Photography

Want to know the story behind GivingQuilts?

Check out this video for a behind the scenes look at how we got started.

"I loved the quilt that my family gave me for high school graduation! It is a great graduation gift idea because just having it with me while I'm away at college I'll feel like my family and friends are close by."

- Emma Jackson
Want to create a gift from the heart?
GivingQuilts is a brand new way to recognize and honor the important people in your life. ♥ Gather a group of people online to build a beautiful quilt! ♥ Each person contributes by submitting the content and cost of one quilt square. ♥ Celebrate life cycles and honor your friends, family, teachers and co-workers with a personal and creative gift to be cherished for a lifetime!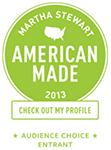 GivingQuilts is honored to have placed 3rd in the Technology category of the 2013 American Made Contest. Thank you for voting!
See Our Entry Here
"Love doesn't make the world go 'round.
Love is what makes the ride worthwhile."


- Franklin P. Jones



Mom & Dad

Step1: Sign Up or Log in.
Step 2: Select quilt or pillow details.
Step 3: Purchase the first square to complete your order.
Step 4 : Invite friends and family to contribute.
GivingQuilt squares are printed on fabric.
GivingQuilt is handmade in America by our expert quilters.
GivingQuilt is shipped to recipient.
GivingQuilt is loved!
GivingQuilts are the perfect group gift for life's important celebrations!
Milestones & Fundraisers

"Go confidently in the direction of your dreams. Live the life you have imagined."


- Henry David Thoreau



Michele D.

Wedding & Friendship

"Love doesn't make the world go 'round.
Love is what makes the ride worthwhile."


- Franklin P. Jones



Mom & Dad

Baby/Life Cycle

"Babies are such a nice way to start people."


- Don Herrold



Aunt Carol

Recognition/Appreciation

"Two roads diverged in a wood, and I–I took the one less traveled by, And that has made all the difference."


- Robert Frost



Anne D.

Graduation
Dorm Gift
Sorority/Fraternity Gift
Club/Non-profit fundraiser

Engagement/Wedding
Friendship
Anniversary
Encouragement/Illness

Birth
Special Birthday
Bar/Bat Mitzvah
Confirmation

Work Retirement
Leadership Appreciation
Service & Corporate Award
Teacher & Coach Thank You Gift

Step 1: Log in to GivingQuilts
Please log in to continue.
Are you sure you want to log out?
Contact us
Step 1: Create an account to get started!
Step 4: Invite your friends and family