Curious about how all this works? Take a quick step-by-step "tour" of the creation process, outlined below, to see how easy it is to create one-of-a-kind quilts and pillows.
Step 1: Create a Username and Password
First, you'll be asked to create a username and password that's associated with basic contact information, just so we know how we could contact you about your order later on, if necessary. This creates an account, and gives you access to the full website which will help you envision your project. Creating an account at this stage requires no commitment on your part to begin a project. What's more, should you decide to start a quilt project, if for any reason you are unable to gather enough participants to complete a quilt, all funds will be returned to each individual–making group gift creation easy, simple and hassle-free for the quilt coordinator!
Each time you visit GivingQuilts from now on, you can log in with your username and password.

Once you've registered, you can log in any time.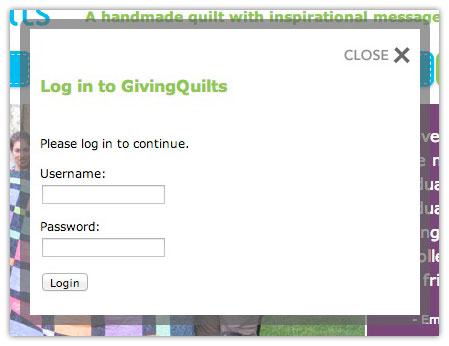 Step 2: Select quilt or pillow details
This is just the beginning of the fun! You'll be guided through a series of steps to establish all of the details of your project, including who it is for and the deadline, as well as selecting the size, color palette and fabric backing. After you've submitted your choices, your project will be assigned a unique Project ID #.

Step 3: Purchase the first square to launch your project
As the quilt coordinator, you must be the first to purchase a square–so you get to pick exactly where your message will appear on the completed quilt! Before purchasing, you will be prompted to submit your message or inspirational quote. Or, instead of a quotation, you could choose to have your square hold commemorative information, such as the name of the baby and birth date, or graduate name, graduation place and date. Once you're happy with the wording on your square, you will then be asked to pay through our safe and secure electronic payment portal. It's that easy!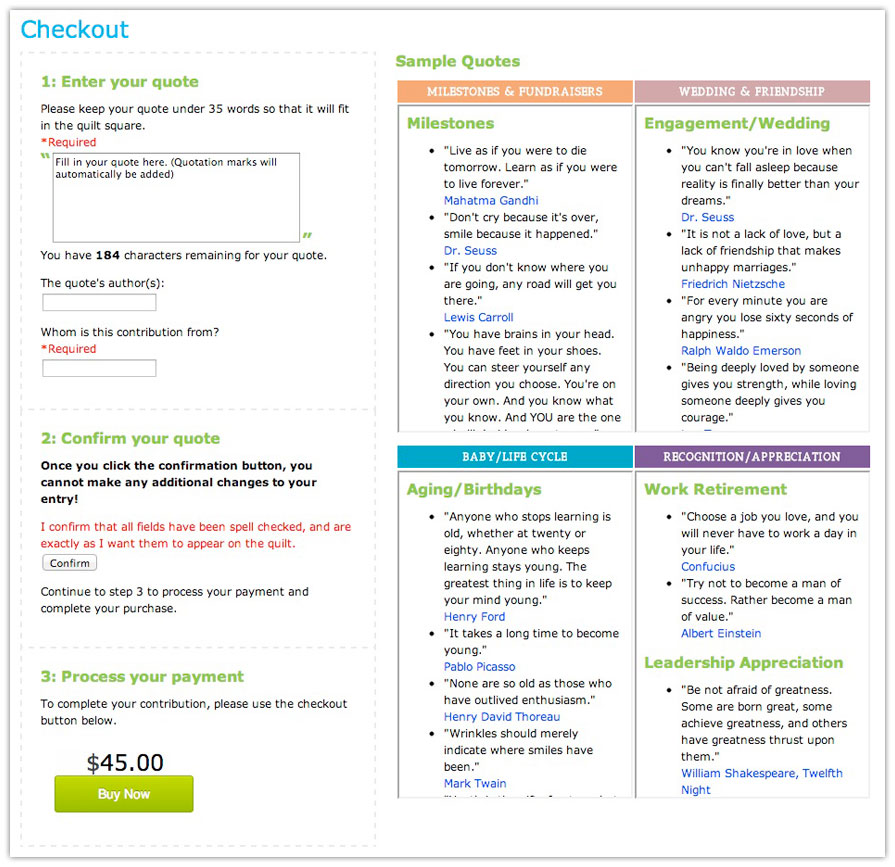 After you submit your completed quote panel GivingQuilt square fabric is digitally printed using eco-friendly, water-based pigment inks on natural fiber textiles. No additional chemicals are used in the printing or preparation process.
The fabric is then shipped to our quilting studio in Athens, Georgia where it is handcrafted by our expert quilters.
Step 4: Invite friends and family to contribute
Once you've determined the size of the quilt in Step 2, you'll know how many people you'll need to invite to participate in this group-made gift. If you are making a baby quilt, you'll need 20 participants (including yourself). If you are making a throw or twin quilt, you'll need 24 participants (including yourself). It is a good idea to begin with a list of more people than you might need, so you can add people if someone from your original list declines or does not respond. To help you keep track of who's "in," we will send you updates by email every time someone you invite joins the project! You should check on the progress of your quilt or pillow regularly, sending reminders weekly. It is important to keep your project on track.